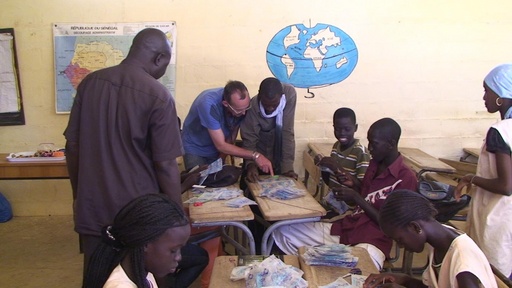 Workshops
Workshop in Dakar grammar school Elhadj, Senegal (april 2010).
In 3 days 3 groups of pupils (age 11-15, m/w) created the most beautiful utensils with garbage. To participate, on beforehand the motivated pupils had to collect, wash and dry many many used plastic drinkwater bags from the streets. Being laughed at by other youngsters: collecting garbage is UNCOOL. In cooperation with the local teacher creative subjects / lecturer in the Dakar Art Academy, and two local artist-friends. From Amsterdam Marlijn took needles, embroidery-thread and colorful plastic buttons. The pupils were skilful, worked 3 hours non-stop motivated, concentrated and quite independent and showed lots of inventiveness and creativity. No way of copying their neighbour! Great experience.
Workshop in community center Cinetol, Amsterdam (feb-may 2009). For her girls group Cinetol organised a fashionproject for ten 10-16 year old participants, under the guidance of artist / fashion designer Marlijn and in cooperation with the girlsteacher and 2 stagiairs of HKA, in 12 weekly workshops we made a collection, which in the end the girls showed on théir catwalk. In the beginning most girls were demotivated, arrived too late or not...Interesting proces how we succeeded in motivating them. During the show they surpassed themselves.
both photo's: videostills Marlijn